Advertisement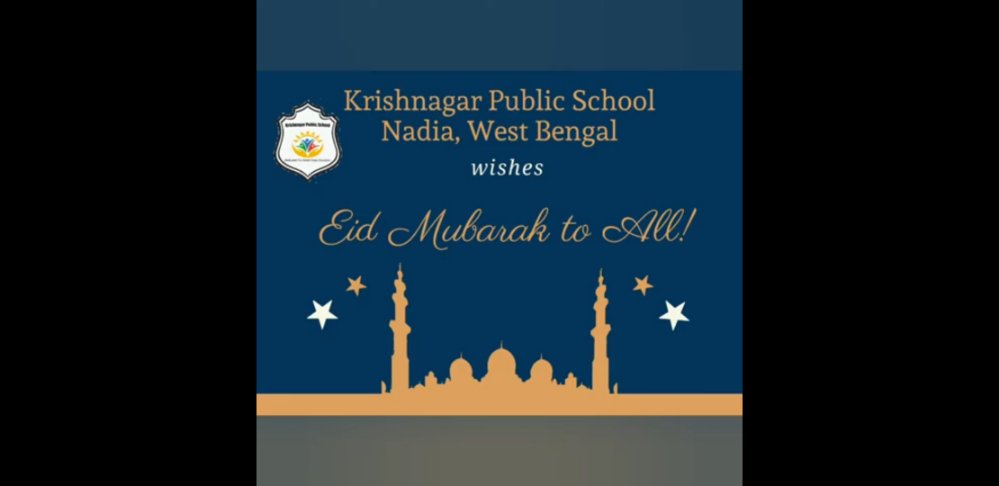 Sting Newz Service: Even amidst the dual disaster of COVID-19 and Super Cyclone Amphan, 23rd May 2020 marked Eid-ul-Fitr one of the biggest festivals of Islam. The students of Krishnagar Public School, Nadia, West Bengal took the opportunity to wish everyone 'Eid Mubarak'.
The students irrespective of their religious background, shared videos wishing 'Eid Mubarak' to everyone. They made hand-made cards and posters to express their best wishes on this occasion.
Some of the students expressed why the celebration of Eid is special to them, how this day they get to unite with their extended families and spend time with their cousins. They even shared how the act of kindness, charity they take during Eid makes them feel happy and satisfied.
Some of the students recited poems to grace the occasions while others organised Iftar parties for their family members at home and shared glimpses of the traditional fast-breaking feast.
Advertisement
Senior students in KPS, conveyed their messages of communal harmony and the importance of valuing the multi-cultural, multi-lingual, multi-religious aspect of our nation. A video of the celebration was later compiled and posted on YouTube for everyone to enjoy. (Please click on link to watch video: https://youtu.be/ebOTvqQwr68
The day of Eid-ul-Fitr symbolises piety, patience, fortitude and Godliness. After the strenuous and painstaking efforts of a month-long fasting, Eid comes as a grand finale. Thus, the spirit of self-introspection, self-criticism, self-correction and self-motivation percolates from Ramzan to Eid. It is this spirit that the young minds tried to reflect in their effort to observe this day and convey their best wishes to all the people across the globe.
Watch the video: