Advertisement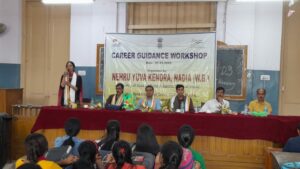 Sting Newz Service: Nehru Yuva Kendra Nadia under Ministry of Youth Affairs & Sports, Govt of India organised a Career Guidance Workshop on 01.03.2023 at the Krishnagar Government College from 11:00 AM onwards.
Dr. Kalidas Das, Acting OIC & Teacher Council Secretary, Dept of Mathematics was present on behalf of college administration. Rizwi Shahnaz Rahman, District Youth Officer, Nehru Yuva Kendra Nadia briefed the sessions in the inaugural session. Almost 200 participants in the age group of 15-29 years attended the programme.
There were 4 sessions
Content writing and opportunities there after by Sh. Debasis Bandopadhyay, Senior Correspondent, Anandabazar Patrika. Jobs in govt sector especially state civil services by Dr. Abhishek Basu, HoD and Asst
Professor, Dept of Molecular Biology and Biotechnology, Sripat Singh College, Jiagang, Murshidabad. From the same college, Prof. Faruk Abdulla, Asst Professor talked on higher studies and Career counseling. Finally Sh. Khagendra Kumar Datta, Retd. Special Assistant, SBI took a session on banking sector and job opportunities.
Advertisement
Altogether, we hope that any minute information or guidance they received today if helps the students in their life, this programme would have successfully achieved the objective of the workshop. And we thank the College authorities for their cooperation in this regard.
We hope of organising more such programmes for larger engagement of youths in the future as briefed by the DYO, NYK, Nadia.