Advertisement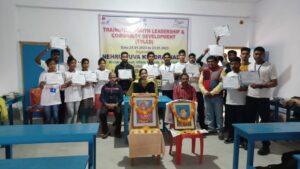 Sting Newz Service: Nehru Yuva Kendra, Nadia under Ministry of Youth Affairs & Sports, Govt of India organized a 3 days residential Training in Youth Leadership and Community Development (TYLCD) programme from 21-23 January 2023 at Sister Nibedita (Pvt) ITI College at Bejpara, Nakashipara in collaboration with Jagadish Bose Vigyan Kendra. A total of 40 youths aged between 15-29 years from different blocks of Nadia participated in this programme.
It is reported that the objective of this training is to impart personality development and become a better version of themselves and to learn interpersonal skills so that they are empowered to take responsibility and take lead in contributing to community development.
The training programme was inaugurated by Brojeswar Roy, Panchayat Samiti Sabhapati. Jharna Mukherjee, Pradhan and Kishore Kumar Sarkar, Upa Pradhan were also present along with Rizwi Shahnaz Rahman, District Youth Officer and other NYK Nadia officials.
Sources said, the 3 days training had classes on different topics including leadership and communication skills and youth centric community development models, digital literacy and other topics relevant to today's youth . Extra-curricular activities like morning yoga, PT, campfire, singing, sports, fun games etc were also undertaken during the course of these 3 days.
Advertisement
During the concluding session, all the participants were given certificates for successful completion of their training.
Rizwi Shahnaz Rahman, DYO, NYK, Nadia said, "We hope that we could provide a platform for the youths of this age group to interact with each other, exchange ideas and learn from this new experience. These 3 days will not only help them to reduce their shyness but we hope will help them in their character building and realize their potential so that they can play a positive role in the further development of their future and that of the commuinity they live in."
Kishore Kumar Sarkar who is also the Vice-president of Jagadish Bose Vigyan Kendra said, "It's a very unique experience working with Neheru Yuva Kendra. We are really happy working with them."