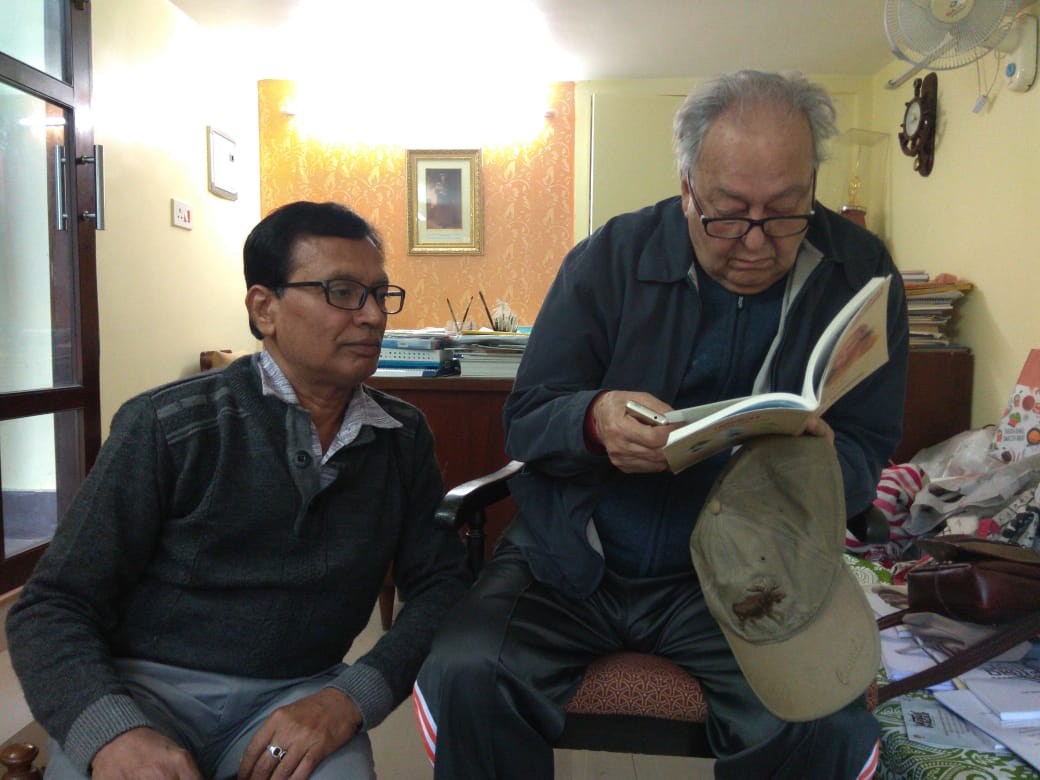 Sting Newz Service, Krishananagar ( Nadia): "Pulu would like to take rice, daal and fish and white card at end. But he would not choice chicken and rich food, said 85 year old Sandhya Majumder, said a friend of Actor Soumitra Chatterjee in Nadia's Krishananagar on Sunday.
Pulu was Soumitra's nick name. Aged Sandhya walked down memory lane following the demise of the iconic actor. She more said, " I would cook for him when he would come here. Once he came with his wife. He would like to take tea at around 4 pm. here. At that time there was a tea brand known as Garden Vally. He would like the brand. So, I would prepare it and we three would drink together." She was speaking constantly. She said," Pulu came here last time 15 years back but he called me over phone just two months ago. He wanted to know my condition. He told to inform him if I do need anything." Showing his small phone- screen Sandhya said," Look, this is his phone number. My number was with him. He would call me time to time." Number and name of Pulu ( Soumitra Chattopadhyay) was showing saved on her phone.
Soumitra Chattopadhyay who was the son of the soil in Nadia's Krishnanagar, spent long time here. He studied upto class five in Krishananagar CMS High School. He then left for Howrah with his guardians. Though with limited persons, he kept a touch with Krishananagar throughout his life.
However, after a long struggle of around 40 days in hospital, the enormous award winning talented actor Soumitra Chattopadhyay expired in a private hospital in Kolkata on Sunday at his age of 85 years. Then the persons having contact with him in Nadia plunged deep into the abyss of memories and sorrows.
One of his class mates cum childhood friend Sudhir Chakraborty with whom he kept constant contact, was so sorrow, didn't speak a ward on the Silver Screen Hero on Sunday. He even was Soumitra's friend in University and throughout the life. He said," Sorry, I won't speak."
He has written various issues on Soumitra as friend in an special issue of a literary magazine Chetana, published from Nadia by Chapal Biswas. The issue 'Ananya Soumitra' was published at beginning of 2020. Chakraborty delineated the issues of University life there. He has written that during the MA examination Soumitra left for Delhi, taking the University Drama team and returned with award of Best Actor.
Sources said that he was born at Sudha Nilay at Sasti tala in Krishananagar on January 19, 1935.
However, Chapal Biswas, the Editor cum Publisher of the said magazine who used to go to Soumitra's home often for collecting materials for the book on him, last met him at his home on February 20, this year. Soumitra Chattopadhyay, himself handed him over a few poems to publish in that magazine. Chandana Chakraborty, a fan of Soumitra said," It proves that the great man like Soumitra Chattopadhyay had the respect for all level people."
Biswas on Sunday stated that he had meet him at his home for last time on February 20, this year.
He said," Some days back, the issue 'Ananyo Soumitra' ( Unparalleled Soumitra) was published in Nandan in Kolkata in his presence. I went to give him the photographs of that program, flowers and confectioneries. Before that I met him at his home a several times for the materials on him for the issue of that magazine. He cooperated nicely."
Biswas iterated that Soumitra himself had handed him over a few of his self composed poems to publish in his literary magazine. "I publised those in different issues. Those poems were reprinted in issue on him," he said.
The 300 copies of first edition was totally sold. Price of the book was rupees 150 each.
Soumitra's home in Krishananagar was known as 'Sudha Nilay'. Actor's guardians had handed over a part of the Sudha Nilay to CPIM and till date it is the CPIM Party office. Now the rest part is a dilapidated building as none of his family stays here.
According to sources, Mack Arther, the Principal of Krishananagar CMS School was the first teacher of his acting.
Pulu returned to Nadia as Apu in 1959. He came to Nabadwip's Maheshganj to act for the film 'Apur Samsar' by Satyajit Roy. Whenever Nadia people enjoys the film, reminds their area in film with pride and recall the son of soil Soumitra Chattopadhyay.
Chapal Biswas on Sunday stated that during elaborate discussion with Soumitra Chattopadhyay, he once said, ' Satyajit Ray made me Soumitra.'