Advertisement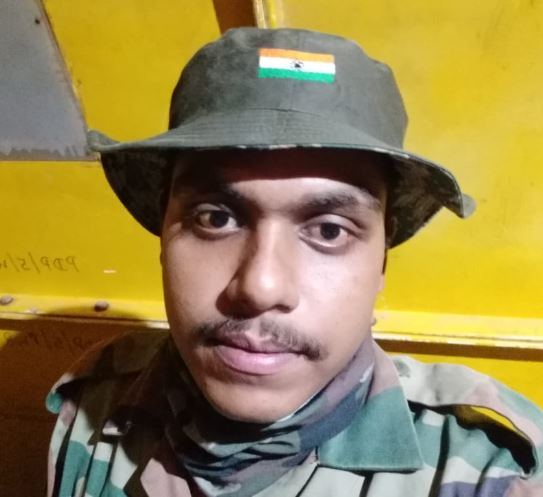 Sting Newz Service, Tehatta ( Nadia):  Subodh Ghosh (24) , the martyred Army Jawan, a resident of Tehatta Raghunathpur in Nadia, who didn't see the face of his 3 months' old baby girl, was eager to back home during her Annaprashan. But he was killed in ceasefire violation by Pakistan Army at border of Baramula sector in Jammu Kashmir on Friday. He was in 59 Medium Regiment.
According to family sources, the body was released from hospital there, on Saturday afternoon and there are some official formalities. It will be sent by flight by tomorrow but later on the time of arrival of the body would be confirmed.
The family got the news of his death at around 3.30 pm.on Friday. Jawan's father Gowranga Ghosh, a day labourer and would earlier work in Kolkata said," There was a miss call at around 3.30 pm. from Jammu Kashmir. Bouma Anindita called back to that number. Receipant of the call said that they had received the marriage documents of Subodh and was confirming that. He then asked the name of his wife. Then the line was cut off. Again the call came after 10 minuites and the caller stated that Subodh was killed by Pak firing. Anindita got faint. Then my wife Basanti took up the phone and talked."
Since then the home and the Village plunged into a melancholic atmosphere. Anindita was not in position to talk. She was crying constantly. Her three months old baby was in bed a little away who would not be able to see his father in life, a local female said.
Once widow pale Anindita said," Listening that I took the baby to doctor, my husband told me on Thursday to take care of her baby and he was trying for getting leave to back home. But all came to an end."
Subodh talked to both of his wife and mother on Thursday.
His mother Basanti Ghosh said," His daughter was born after his last departure for Jammu and Kashmir. He would take her information regularly but didn't not see for once."
Their married took place about 15 months back and the baby Suravi is only 3 months old now.
Subodh came to home for last time in June this year on a leave of 40 days. Due to lock down he was unable to meet friends and relatives that time. He had a plan to back home during the Annaprashan of her daughter. He told so to his father.
Advertisement
His father in law Tapan Ghosh, owner of a small confectionery, rushed to her daughter's home soon after listening the bad news of expiry of Subodh. He said," I talked to Subodh ten days' back. He asked about my physical condition. He was eager to come home at the time of annaprashan of her daughter."
Jawan's father was shocked. He said," He was our only son and source of family income. After getting job, he started to develop a pucca house. Early it was kuccha. It is still incomplete. We are in see now without our son." He had taken a loan to develop the pucca house.
One neighbour Sudip Biswas, the Assistant Head Master in a High school in Bethuadahari was responding to the calls of Army from Jammu and Kashmir on behalf of Subodh's family. He said," I talked to the Army officials time to time and they informed that the body may come tomorrow. One Jawan Manaranjan babu of East Midnapore was with the body. He may accompany with others with the body. He stated that the body was released from hospital this afternoon and will be placed in flight tomorrow."
Sudip Biswas requted the Army official who was taking from other side, to send the Bengali Jawan Manaranjan babu with body as it would be convenient for the family members in the remote village.
The District Police and administration personnel went to the home of Subodh Ghosh on Saturday morning to relay the official message from Jammu and Kashmir and collected some required information.
Gowranga Ghosh stated that when they first talked to the call from an Army personnel from border, was not believing the death news. But Tehatta Police confirmed at late night on Friday.
After completion of his schooling from local Nimtala High School he had taken admission in BA in Betai College. But soon after that he got the job three years back and left the village.
The villagers garlanded his photograph in village on Saturday and paid homage.
A villager said," On the day of light ( Dwali), the village plunged into abyss of darkness following becoming Martyr of village youth Army Jawan Subodh Ghosh."
Watch Video