Advertisement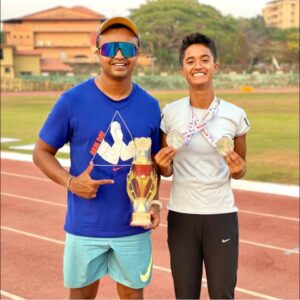 Sting Newz Service: Athlete Rezwana Mallik Hena of Sondanga village at Dhubulia police station in Nadia is going to Uzbekistan to participate in the run-competition.
"Asian Youth Athletics Championship-2023" is going to be held in Tashkent, Uzbekistan from 27-30 April, 2023. Rezwana Mallick Hena will represent India in that competition.
Sources said, Rezwana will participate in 200 mtr, 400 mtr and middle relay races there.
Rezwana's father Rezaul Mallik said, "The contribution of her former coach and sports guardian Dr. Kalyan Chowdhury for this outstanding success of my daughter is undeniable. I am grateful to the organization "Kolkata Ultra Trust" for helping Hena financially.
Advertisement
He also said that Rezwana has just crossed 16 years. Currently she is talking a training in Ooty under the supervision of coach Arjun Ajay.
Henna's success at a glance:
Under-16, 400 mtr National Record (53.22sec) Dt.07.03.2023.
Event: Under-16 Open National Championship, 2023.
Present World Ranking : 1
Under-18, 400 mtr, 200 mtr, National Meet Record (Youth National Championship, 2023)
Under-16, 300 mtr National Record (38.57sec)