Advertisement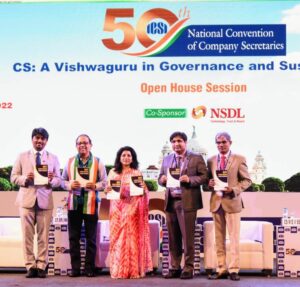 Sting Newz Service: The Institute of Company Secretaries (ICSI) organised
the 50th National Convention of Company Secretaries in Kolkata which was
attended by over 1100 delegates in person from all over India and 4,500 members
joined in virtually. This year's Convention themed `Company Secretary: A
Vishwaguru in Governance and Sustainability' explored the renewed role and responsibility of Company Secretaries (CS) in response to the changing dynamics of the regulatory environment.
The topic for the Second Technical Session was "CS: Fostering Governance and
Corporate Excellence in India Inc." The panellists at the 2nd day of 50th National
Convention organized by ICSI were: CS (Dr.) Mamta Binani, Past President ICSI; CS
B. Murli, General Counsel & Company Secretary Nestle India Ltd.; CS M E V
Selvamm, Former Company Secretary & Compliance Officer ONGC Ltd & was
Moderated by: CS Vineet K Chaudhary, Council Member, ICSI and was attended by:
CS Devendra Deshpande, ICSI President.
On this occasion, CS (Dr.) Mamta Binani, Past President ICSI said, "Governance and
Sustainability will hold the key to unlock and unleash the true value of a corporate. It is time that the prism to see the world changes from only seeing the letters in the law and go beyond to also check on the spirit of it! My heartiest congratulations to my Alma Mater, The Institute of Company Secretaries of India for celebrating the 50th National Convention and also grateful for choosing the city of Calcutta for this. On this
momentous occasion I was honoured to be launching a book on GST and a Certificate
Course on Valuation of Financial Assets and Securities. A book on Secretarial Audit
also witnessed release in this Convention. ICSI being a powerhouse of research along
with practical inputs from its members have been successfully launching materials
which are worth a read".
Advertisement
About ICSI: The Institute of Company Secretaries of India (ICSI) is a premier
professional body set up under an Act of Parliament, i.e., Company Secretaries Act,
1980, for the regulation and development of the profession of Company Secretaries in
India. It functions under the jurisdiction of the Ministry of Corporate Affairs,
Government of India. The Institute, being a pro-active body, focuses on best and top-
quality education to students of Company Secretaries Course and best quality set
standards for CS members. The Institute has 72 Chapters spread across four zones with
over 69,000 members and around 2 lac students on its roll.