Advertisement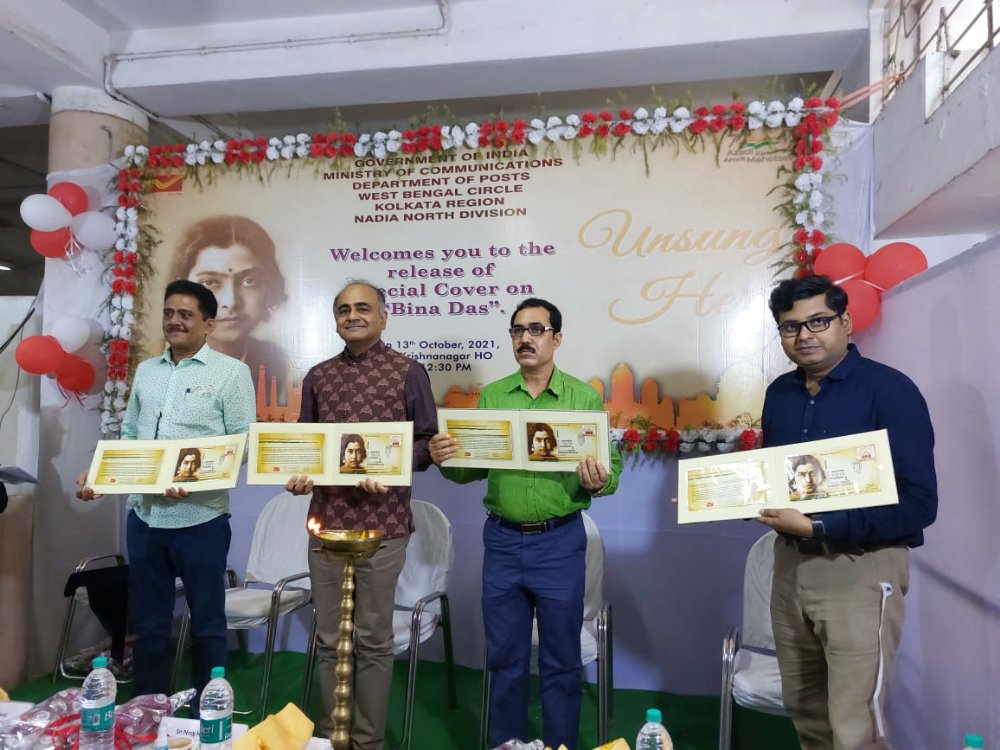 Arnab Majumder, Sting Newz Correspondent, Nadia: On the day of Mahasthami, a very important ceremony was held at Krishnanagar in Nadia district. A special postal cover in the name of eminent freedom fighter Bina Das was published on the occasion of the 75th anniversary of Independence organized by the Postal Department of the Government of India. The special postal cover was inaugurated by eminent writer Tamal Bandyopadhyay, Nadia North Division Superintendent Arup Kumar Sheel, Kolkata Region Postmaster General Niraj Kumar and Assistant Director Tushar Kanti Chowdhury.
Although the Government of India awarded PadmaShree to Bina Das, there was no commemorative stamp in her name so far. The Postal Department of the Government of India paid special tribute to her by releasing a special postal cover in her name at Krishnanagar Head Post Office on Wednesday.
Renowned writer Tamal Bandyopadhyay, who is himself a Krishnanagar man, thanked the Indian Postal Department for organizing such an event on the grounds of Krishnanagar in Nadia.
Advertisement
Tamal Bandyopadhyay said that the day of inauguration of women power like Durga Ashtami has been chosen to publish this special postal cover on Bina Das. That is why I am grateful to the Indian Postal Department.
It may be mentioned that Bina Das was a freedom fighter who fired five shots at the then Governor of Bengal Stanley Jackson at the Calcutta University Convocation Hall. He deliberately missed every shot of his own. Because his goal was to hit the foundations of British colonial rule, not any individual.
Remarkably, Bina Das was born in Krishnanagar, Nadia and she was the daughter of Beni Madhab Das, the great teacher who initiated Netaji Subhash Chandra Bose in the fire-mantra at Cuttack Ravenshaw Collegiate School. At the time of Bina Das's birth, Beni Madhab Babu was transferred to Krishnanagar Collegiate School.