Advertisement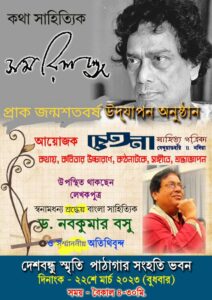 Sting Newz Service: Surathanath Bose was born on December 11, 1924 in Vikrampur, Dhaka, Bangladesh. Later, this man of colorful life who came to be known to us as Samaresh Basu, Kalkoot or Bhramar.
The pre-birth centenary of this writer will be celebrated on Wednesday, March 22, at the 'Sanghati Bhavan' of Bethuadahari Deshbandhu Smriti Pathagar. Chetana Sahitya Patrika, a literary magazine will pay tribute to Samaresh Bose in poetry, song, voice& drama on that day.
Sources said, they will also publish a special issue on Samaresh Bose on this occasion. His distinguished son writer Dr. Naba Kumar Bose will be present on the occasion.
Prominent writer Debjani Bhowmik, lyricist Nandini Laha, Amitabh Roy Chowdhury, Jaya Mustafi Roy, Sudeshna Dutta, Ujjal Goswami, Subir Nag Chowdhury, Shamindra Bhowmik and others will be present.
Nilanjana Dutta and Arup Mondal will host this program, which is inspired by Chapal Biswas, Editor of Chetana Sahitya Patrika.