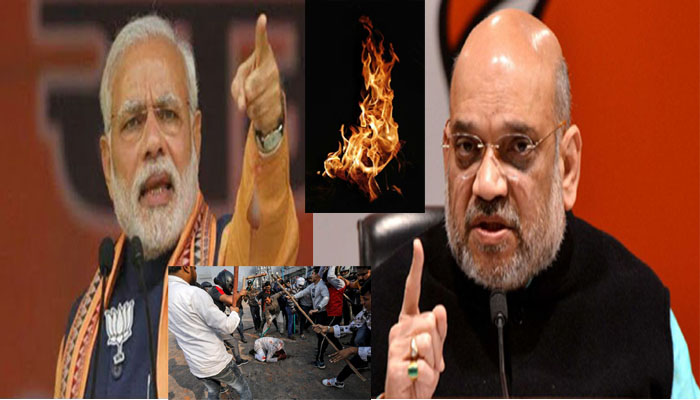 Sting Newz Service: The death toll in Delhi communal violence rose to 27 on Wednesday, even as Chief Minister Arvind Kejriwal flagged that the situation has become "alarming" and the Army should be called in as police was "unable to control it". The number of injured has crossed 200.
Twenty-seven deaths were reported from the Guru Teg Bahadur (GTB) Hospital and Lok Nayak Jai Prakash Narayan Hospital. Many of the injured admitted in GTB were reported to be critical.
Communal violence over the amended citizenship law escalated in northeast Delhi on Tuesday as police struggled to check the rioters who ran amok on streets, burning and looting shops, pelting stones and thrashing people.
Media reports said, many Muslims were abandoning their homes in areas hit by the violence. Their houses, shops and places of worship have been reduced to ashes. In the Panchwa Pusta neighborhood, several witnesses said police officers had shielded rioters, fired at Muslims crowds and failed to act when rioters set a mosque on fire. Many Muslims have accused the police of standing passively by while their homes and business were attacked by Hindus. Only Muslims were targeted in the violence by Hindus.
Muslims say the Citizenship Amendment Act (CAA) is part of Prime Minister Narendra Modi's Hindu supremacist agenda and is against the country's secular ethos.
BBC Hindi Correspondent Faisal Mohammed wrote in website that A small crowd of around a dozen people is standing outside a vandalised mosque in Ashok Nagar, one of the areas worst affected by the violence.
The front of the green and white building is scorched. An Indian flag and a saffron flag, commonly associated with right-wing Hindu groups, are flying from one of the minarets.
Torn pages from the Koran are strewn outside the building. Two young men are picking up the pages and putting them in a plastic bag.
One man says he will take the pages and bury them in a graveyard.
As I enter the building, I see skull caps and partially burned prayer mats.
The area where the mosque stands is a Hindu neighbourhood, but residents say that they had nothing to do with its desecration.
They blame "outsiders", saying that they did not intervene as they were afraid of being targeted.
It is reported that The national capital has been in the throes of violence since Sunday evening after BJP leader Kapil Mishra demanded that anti-Citizenship (Amendment) Act protesters clear the sit-in demonstrations from Northeast Delhi areas of Jaffrabad and Chandbagh.
BBC also reported that armed Hindu mobs rioted with impunity as the police appeared to look the other way. Mosques and homes and shops of Muslims were attacked, sometimes allegedly with the police in tow. Journalists covering the violence were stopped by the Hindu rioters and asked about their religion. Videos and pictures emerged of the mob forcing wounded Muslim men to recite the national anthem, and mercilessly beating up a young Muslim man. Panicky Muslims began leaving mixed neighbourhoods. (Courtesy: BBC/Other websites)