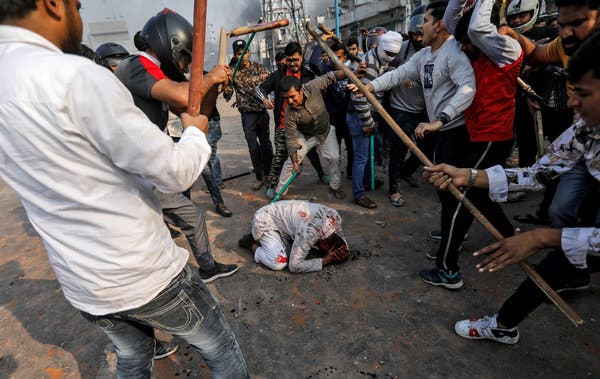 Sting Newz Service: National news channel NDTV reported that 27 were killed and  200 others injured In Delhi Violence so far.  Reports of arson emerged from northeast Delhi's Bhajanpura this evening, hours after National Security Advisor Ajit Doval visited violence-affected areas of the national capital to offer personal guarantees that the government would restore peace. At least 27 have died and over 200 have been injured after four straight days of clashes over the citizenship law. Amid the unprecedented violence, over which the Delhi High Court today issued a sharp reprimand to Delhi Police, Prime Minister Narendra Modi made his first public statement, calling for "peace and brotherhood". Home Minister Amit Shah, under fire for failure to control the violence, has held multiple review meetings. Delhi Police has filed 18 FIRs and arrested 106 people in connection with the violence, which they say is now under control.
It is reported that Congress president Sonia Gandhi on Wednesday said the Centre and the Delhi government were responsible for the deadly communal violence in the national capital and demanded that Home Minister Amit Shah should resign taking responsibility for it.
Addressing a press conference after chairing a Congress Working Committee (CWC) meeting, she said there was a conspiracy behind the violence and tragic incidents in Delhi.
"The conspiracy was witnessed during Delhi polls and BJP leaders gave hate speeches creating atmosphere of fear and hatred," she said.
The Centre, home minister and the Delhi government are responsible for the situation in the national capital, the Congress chief said.
Union Home Minister Shah must take responsibility for the violence in Delhi and resign, she said.
Gandhi said the Delhi government and Chief Minister Arvind Kejriwal have also failed to maintain peace.
The Congress president also hit out at BJP leader Kapil Mishra for making a statement that allegedly incited violence in the city.
The CWC has passed a resolution on the situation in the city, she said, adding that the CWC believes that the situation is grave and an urgent action is required.
(Courtesy: NDTV /The Asian Age)