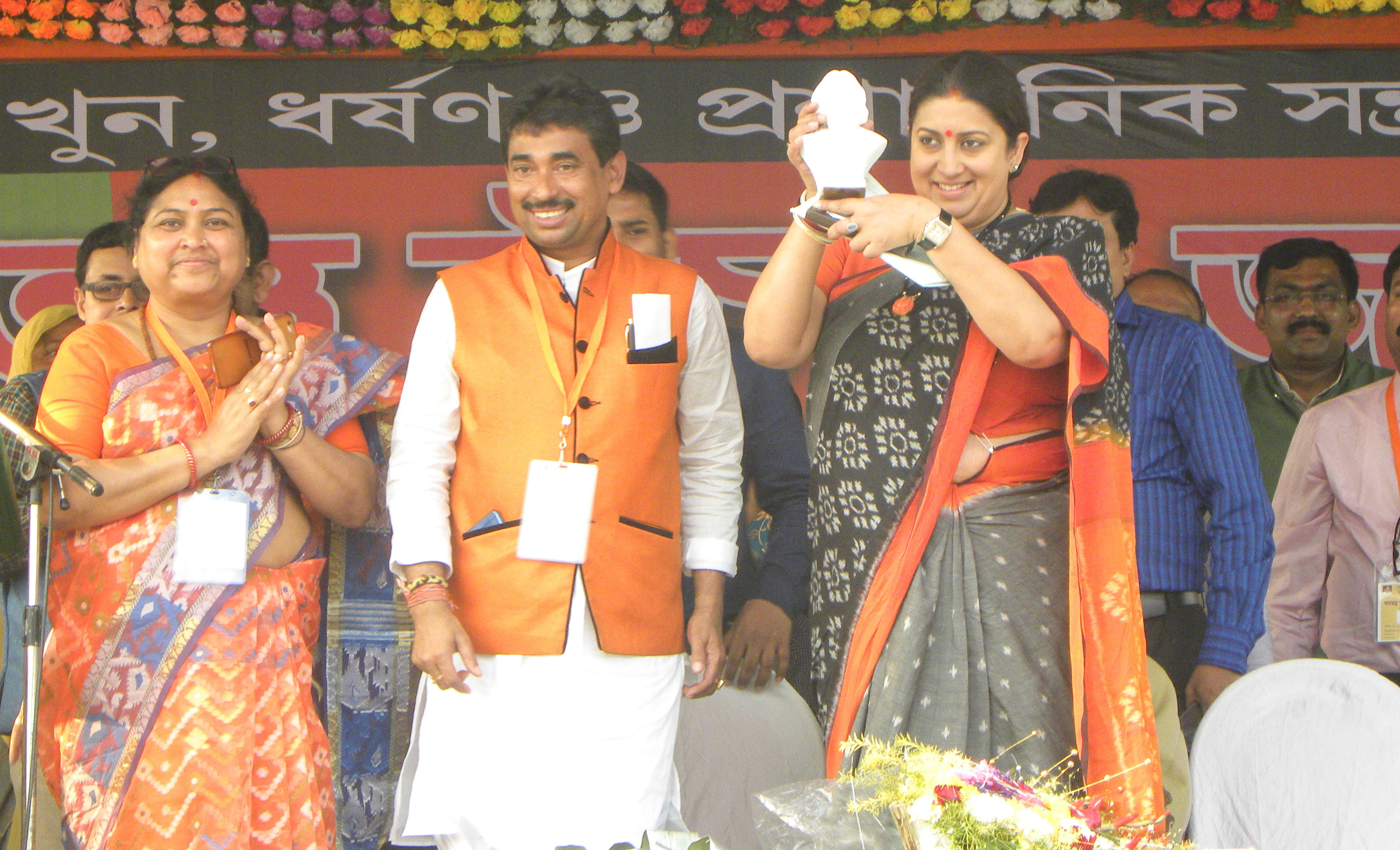 Sting Newz Service, Krishnagar, Nadia: Hindutwa is the main weapon of BJP's Textiles Minister Smriti Irani's rally in Nadia. Alleging TMC Government as Hindu-opposing Government, Smriti Irani said, " Didi, (read Mamata Banerjee) will not allow Durga immersion, will not allow to do Saraswati Puja here. As there is the name of 'Ram' in 'Ramdhanu', Didi stated to change it to 'Rong Dhanu'. So how long will you allow the Hindu-opposing TMC Government in Bengal?  You, the people have to decide it."
She was addressing a party rally at Krishnagar in Nadia on Thursday afternoon. At that time she said the above. Her addressing was mix of Hindi and Bengali languages.
"While Congress was in power had given rupees1 lakh crore to Bengal for its development. Modi has given Bengal the rupees 2 lakh 80 thousand crore. While Modi Government has given much money, Didi, why you dislike Modi and why the alliance with Sharad Power, CPIM and Congress?," she added.
However, she also said that the Bengal poor people are compelled to give the 'Tolabaji Tax' from birth to death.
She also stated that, in job, in college admission or in getting government home, the people in Bengal are compelled to give the ' Tolabaji Tax' to Trinamool Congress. "If you ask the Bengal poors, what TMC has given to them, they will reply that it has not given but taken  'Tolabaji Tax' from them, " she more said.
In a ward, she tried to delineate the ill plight of Bengal in her speech where the oppression and exploitation by TMC in Bengal were the main issues.
During her addressing, she raised the issues of free gas cylinders to 70 lakh poors and Mudra Yojana of Modi Government those helped the poor immensely.
Time to time, the corus of 'Joy Sri Ram' was learnt during her Bengali and Hindi mixed lecture.
Gouri Shankar Dutta, President, Nadia district TMC Committee reacted Smriti Irani's speech of TMC as Hindu-opposing Government.
Gouri Shankar Dutta said, "It is the culture of BJP of giving speech on religious sentiments. We are not worried about BJP. There is no BJP in the district."
Mukul Roy, Rahul Sinha and some other local BJP leaders too addressed the gathering of around 15 thousands people.
There was a tug of war between the BJP and local administration on the issue of permission for landing the helicopter carrying Smriti Irani. It was going on since Wednesday morning, BJP President, Nadia district (North) Mahadeb Sarkar said.
The district administration had intentionally created a complexity on way to give permission of landing the helicopter in Nadia carrying Irani at the very last moment, Mahadeb Sarkar added.
He more said," While, earlier the permission was given for landing the helicopter at a ground in Krishnanagar, it was cancelled later on showing silly and fake reason. Our meeting was at 12:30 pm. and finally we managed the permission of ISKCON Authority for landing it on their helipad inside campus of ISKCON at 11:40am, Mahadeb Sarkar said.
Aftar landing at a ground in Mayapur ISKCON Temple Compound, Smriti Irani reached Krishnagar by a vehicle along NH 34, a distance of about 15 km from the venue.