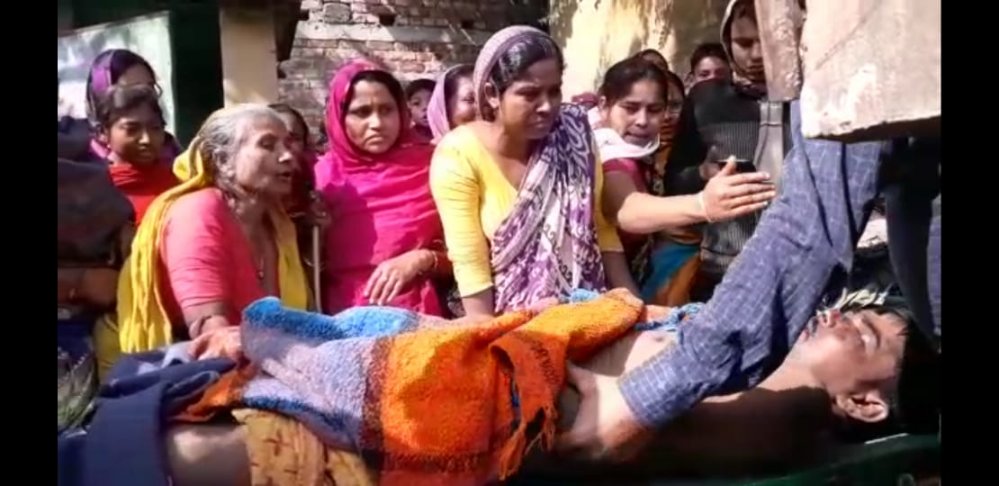 Samir Rudra, Sting Newz Correspondent, Chapra (Nadia): A youth was murdered by some miscreants in Nadia's Chapra. His body was found on Saturday morning.
However, Murder in Nadia has appeared all but a daily routine.
Farmer Kashem Mondal (33) of Ranabandh under Chapra police station area in Nadia was missing since Friday. His body was found on Saturday morning.
According to police, he was hit with some heavy thing and died. There were the stains of blood on his body.
Family sources said that Kashem went to the Christmas Fair at Chapra Ranabandh on Friday. Some miscreants abducted him from the fair area in the evening. Since then he was missing.
Not getting his trace, family informed police. Police went out to search and found some of his clothes a little away from the fair ground. However, his body was found at a little away from the fair ground on Saturday morning.
Police suspects that any old grudge caused his murder. However police initiated an investigation.
He survived his wife and two minor sons named as Sakil (9) and Amin Mondal (4).
His wife Pinky Mondal said on Saturday , "My husband went to the fair on Friday. Latter on, I came to know that a few men abducted him from there. They tied him with a 'GAMCHHA' and carried away on shoulders openly. We searched for him throughout the night. But got no trace. His body was found along a water body in an agricultural field at Ranabondh today morning."
She added that she knew the culprits.
Victims sister Nashima Bibi demanded the arrest and hard punishment to the culprits.