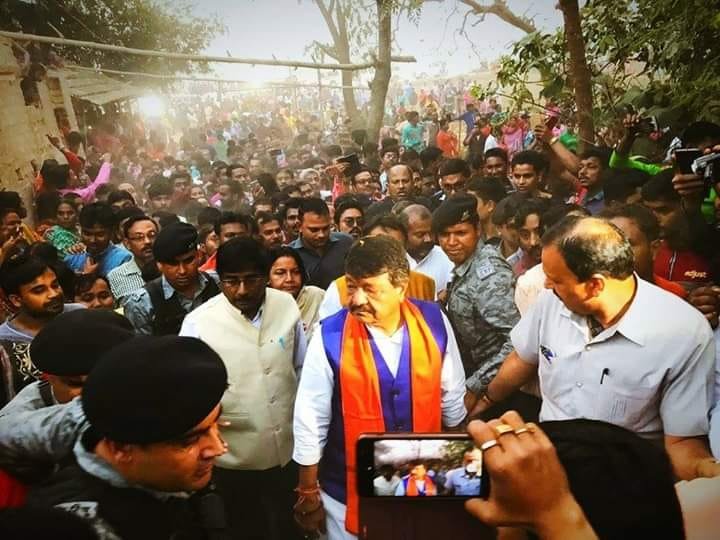 Sting Newz Service: " Mamata government indulges them who produce liquor and the earning goes to Abhishek Banerjee," Kailash Vijayvargiya, the BJP leader said it in Nadia's Shantipur on Friday.
He came here to visit the patients in Shantipur Hospital those got ill after consuming spurious liquor at Chowdhury para of Nrishingapur in Nadia's Santipur recently. They went to the village too, to meet the relatives of the victims. Mukul Roy accompanied him.
" All the illegal earnings in State goes to Abhishek. So he is blamed for the liquor victims," Vijayvargiya added.
They first went to Shantipur Hospital. Roy there said, "During 2011, before coming to power, Mamata would say that milk was available during the reign of Ram, ghee during Krishna and chullu during the reign of Buddhadeb Bhattacharjee. But today we see that chullu is available even in the reign of Mamata Government and the government stamps over it also. However, during the entry of our team to the hospital, TMC showed us black badges and also tried to hinder on road."
However, the ten families of Shantipur spurious liquor victims got rupees 2 lakh each as compensation from State Government on Friday.
The State Education Minister Partha Chattopadhyay came to Shantipur Hospital and handed over the concerned cheques to the effected families. He stated that the rest two families of Kalna and Jharkhand would be given the cheques later on.
The Kalna families would get the compensation from Burdwan administration and the Government was awaiting to get the documents from Jharkhand family.
When Partha Chattopadhyay was asked by media who was blamed for the Shantipur mishap, he said, " They would not die if would not consume liquor. Government has been awaring the people."
He stated that while 12 were died, other 10 were referred to Kolkata. he distributed cheques each of two lakh to the victimized families.
Occasionally, he criticized the appearance of BJP team without naming them. He said, " While the government has been trying to save the ill patients, some saying that admission in hospital is equal to death.In fact, they have been trying to play dirty political game regarding the issue."
He pointed out that no FIR accused will get compensation even if dies. " Stern action will be taken against him," he said.