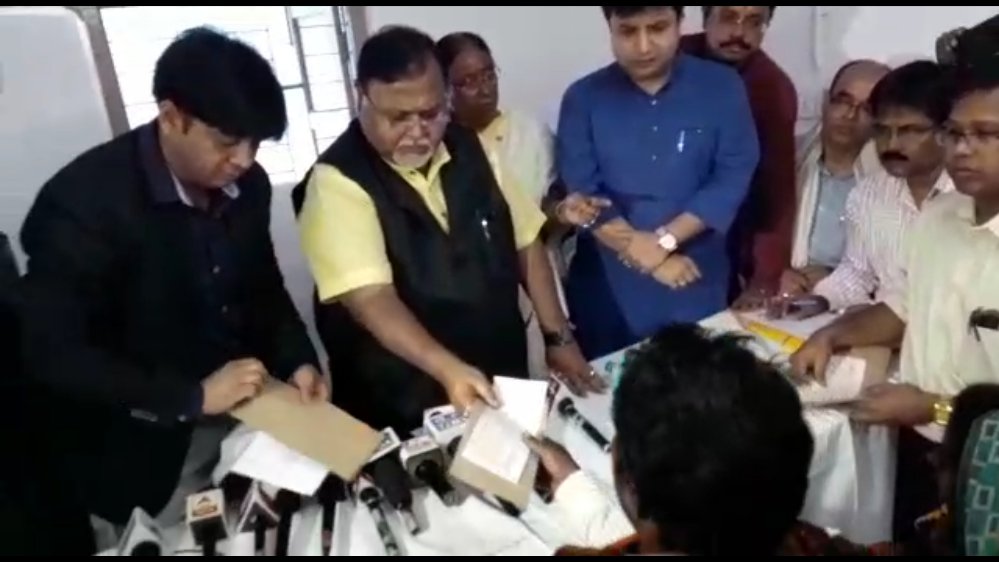 Sting Newz Service: Trinamool Congress leader Partha Chatterjee also came to Nadia's Shantipur Hospital on Friday morning to distribute cheques to the families of the victims those who were died in the hooch incident.
He stated that 24 persons are admitted in Shantipur Hospital. 10 others were referred to Kolkata. Minister Ujjwal Biswas, Shantipur MLA Arindam Bhattacharya, Tehatta MLA Gouri Shankar Dutta, Nadia Zilla Sabhadhipati Rikta Kundu and Nadia District Magistrate Sumit Gupta were present in the cheque distribution programme in the hospital.
Trinamool leader Partha Chatterjee said, "When the Government is trying to save the ill patients, there some persons (Read Mukul Roy and Kailash Vijayvargya) are saying, all will be died if they are treated in Shantipur Hospital, those who are doing this type of politics without standing beside the people, they are not doing right thing. Some perhaps already become busy on coming down to do water grinding. I told them, there are so many good things in which they can busy."
"We distributed 10 cheques of 2 lakhs rupees today. A deceased is from Burdwan's Kalna and other deceased from Jharkhand. All papers will be collected from them, then cheque will be hand over to them. No one will get cheque whose names are in FIR in this incident. Even if any accused are survived, administration will take stern action against them too, Chatterjee added.