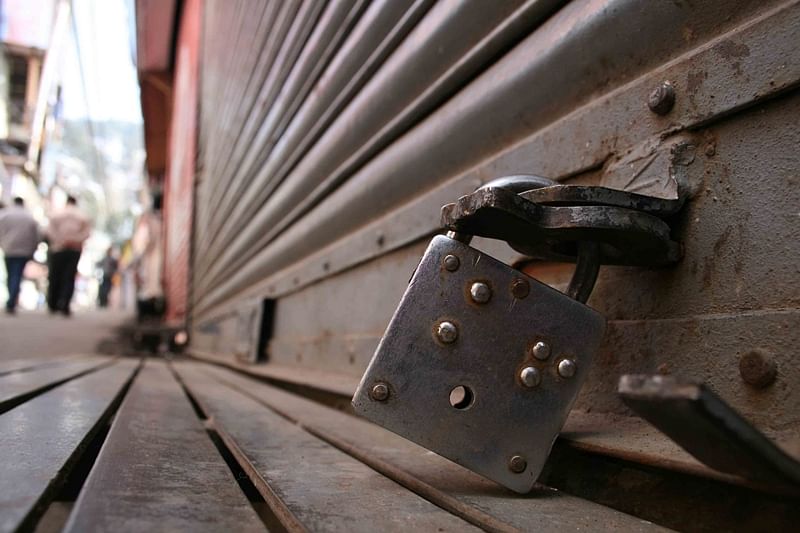 Sting Newz Service, Kalyani :  While the BJP leadership stated that the 12 hours' strike called by BJP at Kalyani constituency in Nadia was success, TMC said just the opposite. On the other hand administration stated that everything was normal and there was no law and order related problem following the strike. However, Kalyani Police detained 4 persons allegedly for attempting to compel the shop owners to close shops forcibly.
The PRO, Nadia Chamber of Commerce, Keshab Lal Kar, a resident in Kalyani said, " There was no strike in Kalyani on Monday and I found markets open and when I went to two Nationalized banks for related matters, those too were open."
The body of Bijoy Shil (37) of Gayeshpur ward 8 of Gayeshpur Municipality under Kalyani Police Station area in Nadia was found hanging from a tree on Sunday morning. Demanding as there worker BJP blamed TMC and calked a 12 hour strike in Kalyani on Monday initiating from 6 am.
Bijay's nephew Bappa shil, who is the President of BJP's Gayeshpur Town Yuva Mondal, said," After leaving TMC before Lok Sabha Election, uncle joined BJP and had been working actively. That was why, TMC killed him."
However, Kalyani and Gayeshpur are two towns side by side under Kalyani Police station limits. The main market in Kalyani is Market No.2. It remains closed on every Monday. According to Keshab lal Kar, PRO, Nadia Chamber of Commerce, " Rest markets banks , offices were as usually opened."
The market at South part of Gayeshpur also remain close on every Monday. So, it was closed. Rest, as demanded by Gayeshpur Municipality Chairman Maran Kumar De from TMC ," Everything was opened."
But Ashok Chakraborty, the President of Nadia BJP said, " Though TMC showed fear to the shop owners to keep shops open, they kept close and supported BJP sponteniously. The local people felt that murder of Bijay Shil was a political act of TMC. So they supported us. TMC launched a bike procession this morning and closed a few shops by force. But they later on, opened their shops."
However, Maran De refuted this allegation of BJP saying, " It is false "
BJP protested the killing by set a tire on fire in Kalyani and a tiny tension was prevailed. However, that was very soon mitigated.
SDO,Kalyani, Dhiman Barui said," Everything was normal and there was no law and order related problem on Monday. All the offices, shops, banks were opened."