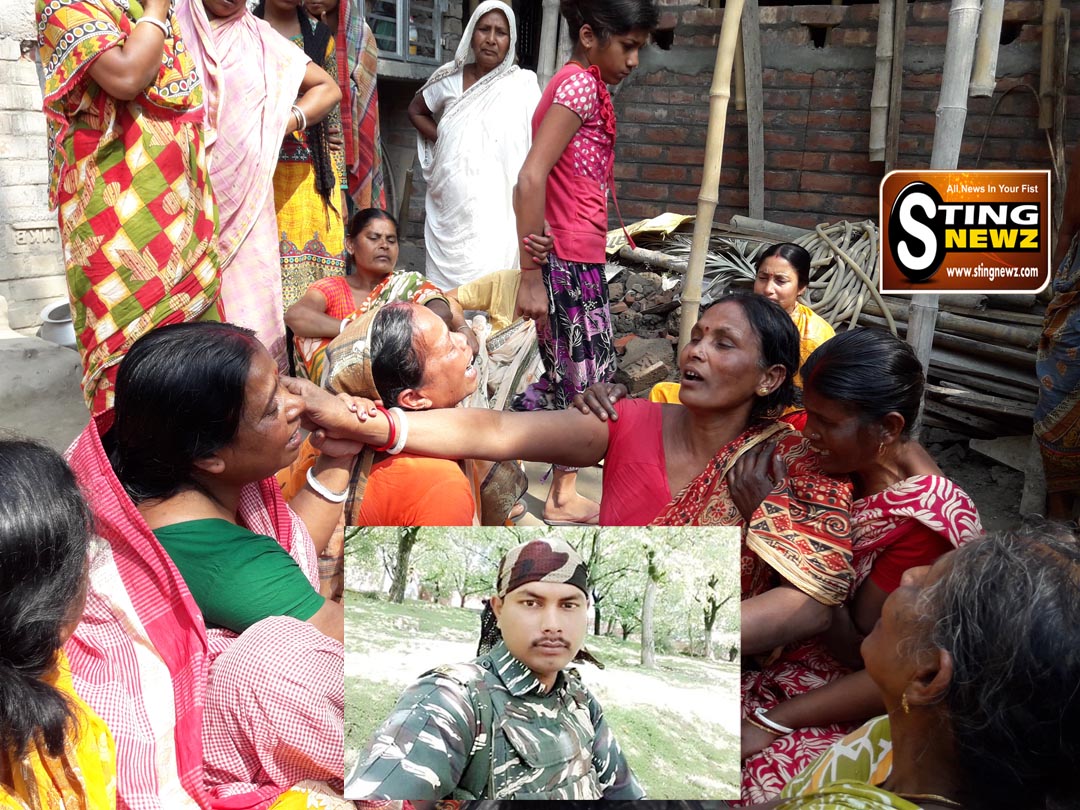 Sting Newz Service : The only son and earning member of his family, Sudip Biswas (27) of Telenipara Hanspukuria under Tehatta PS in Nadia, had been killed by terrorist at Jammu on Thursday including other 43 CRPF Jawans.
Soon after getting the information on Friday morning, the family plunged into melancholy.
While there was the tension since 3:10 p.m. on Thursday after the phone conversation between CRPF Jawan Sudip Biswas (27) of Tehatta Hanspukuria in Nadia and a neighbouring female cut off, the family of the Jawan plunged into melancholy when they got the news at around 9am. that Sudip was no more.
He became one of the martyrs those killed in Kashmir by terrorist on Thursday.
As was informed to the martyrs brother in law Samapta Biswas by CRPF, the body is in Jammu now. " The body will come to Kolkata by flight via Delhi. A CRPF officer told me at around 3:15 p.m. on Friday. The corpse is in Jammu airport now. Methinks it will reach here tomorrow. The CRPF officer wanted my cooperation in this regard," Samapta Biswas, victim's brother-in-law said.
Since the news of Sudip's death arrived the home, his mother Mamata Biswas, married sister Tumpa Biswas have been lamenting constantly. His father Sannyashi Biswas, an agricultural day labour, was so shocked that he forgotten to cry.
Sudip was only son and only earning member of his family.
Sudip had the last conversation with his father Sannyashi Biswasat around 10 am. on Thursday. He was working in field at that time and the phone call from Sudip came in. " He asked me what I was doing. I replied that I was cutting crops in field. He again questioned that how long it would take to finish and then told me to take lunch reaching home soon. The conversation went on for two minutes. But at around 9 am. today we got the news that he was killed by terrorist in Jammu," he said.
Sudip's mother Mamata Biswas said," The last talk from Sudip had taken place with a married neighbouring female at around 3.10 pm. on Thursday. I was washing clothes at that time. Before that the conversation took place with his father in the morning. But at around 3.30 pm.on Thursday, the son of my elder sister told me that Toton's ( Sudip's nick name) phone was not connecting. It was found switched off. He informed then about the attack of terrorist on CRPF at Jammu." She could not continue the conversation and begun to lament.
The rural femals, the neighbours, the relatives were trying to console her and her daughter Tumpa. But they are lamenting continuously.
Samapta Biswas said that a phone call came at around 9 am. on Friday. " The caller told me first that we all know about the terrorist attack on CRPF in Jammu. Was there any ring on Sudip's finger. I told that there was no ring. Then asked where are the moles on his body. I informed. The line got cut off. Soon the caller again called and said that Sudip was killed. We are sending his body. It is in Jammu Airport now, " said Samapta Biswas.
Sudip had been trying for job soon after completion his HS from Hanspukuria High School. He got this job and joined on October, 2014.