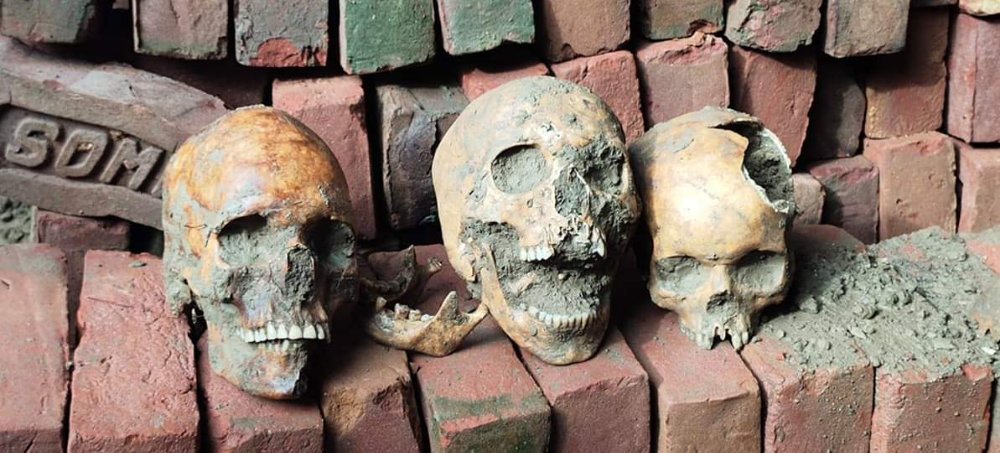 Nabendu Bhattacharya, Sting Newz Correspondent, Nakashipara, Nadia: A tension was created when some parts of skeletons and 3 skulls were found at Dhubi Karigarpara village under Nakashipara police station area in Nadia on Wednesday during digging for developing foundation of building of an ICDS Centre.
Subsequently DM, Nadia, Vibhu Goel ordered for re-digging on Friday. He said, " I have heard of it. I have seen the concerned photographs. There are three skulls in photograph. I have told to dig the spot on Friday to look at it. Police also will be there during digging."
The spot of incident is a Government land and was given to develop 451 number ICDS building.The digging initiated for foundation on Wednesday.
The bones and skills came out on Wednesday. So the labourers under contractor covered some of bones under the ground and left the spot. But before that, huge curious people were gathered the spot to see the findings on Wednesday and Thursday.According to the assumption of some locals, the spot was a Muslim graveyard long ago.
However, Nakashipara police had rushed the spot soon and subsequently the information reached to DM Nadia.
Local Panchayat Samity Member Abdul Salam Ansari said," I have never seen the land to be used as graveyard. My parents also never seen. These may be of century old skeletons."
However, many locals demanded for forensic test.The parts of skeletons and skulls will be collected by Nadia administration on Friday to look into the details of the parts of skeletons.