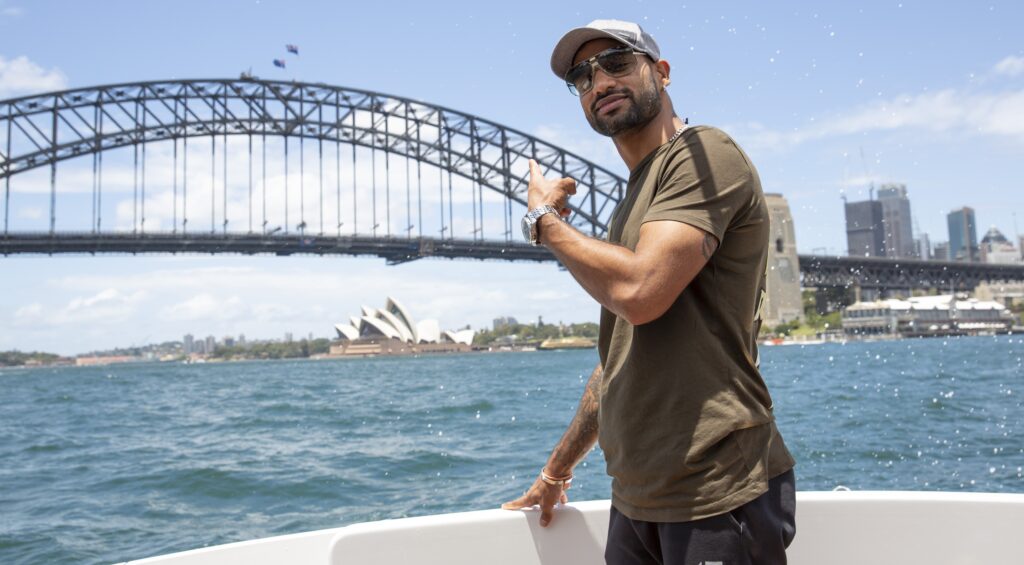 Sting Newz Service: Currently in Australia, ace Indian batsman Shikhar Dhawan, who was part of the T20I side, was bowled over by the scenic beauty of the Australian city of Sydney as he spent some time soaking in the vibrancy of its iconic Harbour. On his day off, he was seen taking a boat ride cruising along the beautiful waterway with unparalleled views of the spectacular Sydney Opera House and Sydney Harbour Bridge. Shikhar is currently the leading run-scorer in 2018 in T20 Internationals and has been in great form during the recently concluded three T20i matches against Australia.
Cricket is a shared passion between India and Australia and given the immense popularity and following of cricketing contests between the two nations, it is the most contextual opportunity for Tourism Australia to showcase the destination and influence travel to Australia. As part of its efforts to challenge perceptions of what Australia offers as a tourism destination by showcasing unusual attractions and experiences through the UnDiscover Australia campaign, Tourism Australia has collaborated with Shikhar to encourage Indians travellers to enrich their holiday by actively participating in immersive experiences and sharing his personal moments with his over 11Mn social media followers
A relaxed Shikhar mentioned, 'While I've strolled around the spectacular Sydney Harbour several times, it is for the first time that I've indulged in taking a yacht ride across, and it definitely is a great way to experience the two amazing Sydney icons. During all my previous visits to Australia, I've always been fascinated by the natural beauty, unique wildlife, iconic attractions, and the multicultural cities. It's easy to see why it is so popular as a holiday destination for Indians and some of my personal favourite family holiday experiences are also from Australia – including an unforgettable visit to the Great Barrier Reef, sipping the best brews in the lanes of the coffee capital of the globe – Melbourne, and meeting the world's happiest animals – the quokka at Rottnest Island near Perth.'
Nishant Kashikar, Country Manager – India and Gulf, Tourism Australia said, 'India is currently Australia's fastest growing inbound market for visitation, and given the enormous potential, it is being nurtured for sustained growth through focussed consumer driven initiatives. Content related to cricket, and cricketers is very favoured by our target audiences in India, and it is great to be able to share a glimpse of Australia through one of the most popular players of the current Indian team. Shikhar is widely followed on social media and having spent personal time in Australia makes him a great advocate to share his own travels and experiences, thereby inspiring Indians to choose Australia as their next holiday destination.'
To capitalise on the awareness created by the recently launched UnDiscover Australia campaign and to entice travellers to act on their inspiration to visit Australia, Tourism Australia has partnered with five full-service and low-cost airlines to launch the fifth version of its industry-first initiative, the Great Australian Airfare Sale featuring return economy class airfares starting from just Rs 25,000*, which are offered by leading airlines such as Air Asia X, Air India, Jet Airways, Malaysia Airlines, and Qantas.
Arrivals from India to Australia grew by 19 per cent for the year ended September 2018 with an influx of 345,500 visitors, compared to same period last year, making India the 8th largest inbound market for Australia.
About Tourism Australia
Tourism Australia is the Australian Government agency responsible for promoting Australia to the world as a destination for business and leisure travel. Tourism Australia's purpose is to increase the economic benefits of tourism to Australia, supporting the industry's Tourism 2020 strategy, which aims to grow the overnight annual expenditure generated by tourism to more than A$ 115 billion annually by 2020.
 The organisation is active in around 17 key markets, where it aims to grow demand for the destination's tourism experiences by promoting the unique attributes which will entice people to visit. Tourism Australia's activities include social and digital media, traditional advertising, public relations and media programs, trade shows and programs for the tourism industry, consumer promotions, online communications and consumer research.
 For more information visit www.tourism.australia.com | www.facebook.com/seeaustralia
 To book your holiday to Australia, visit www.australia.com/explore
(Press Release)