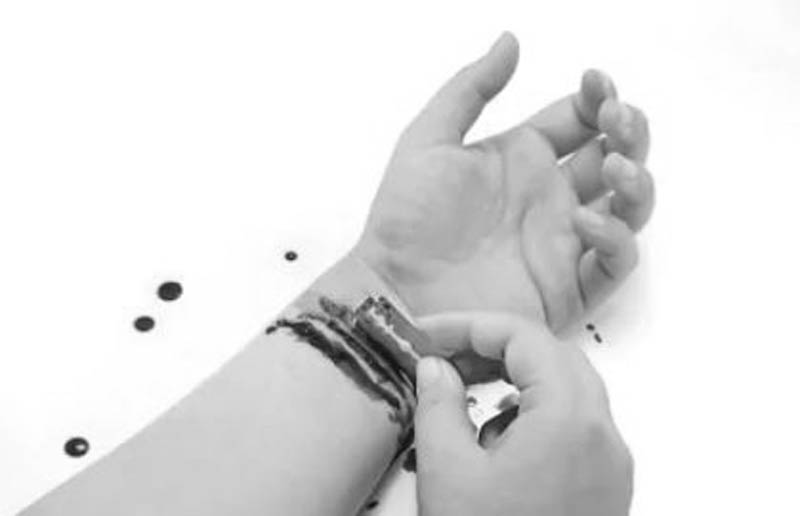 Sting Newz Service, Nadia : As the parents used to pressure their son for studies and would not allow to go out for playing, a class nine student attempted to commit suicide by cutting his wrist with a blade. He was found lying in a paddy field with injury about one km. away from their home. Police rescued him and sent to hospital. It happened at Khajuri village under Dhubulia police station area in Nadia on Monday afternoon, a police sources said.
Ratan Das of Banagram-Shimultala under Nadia's Dhubulia is a well-known private tutor at his locality. His wife is an ASHA worker. Their only son is Shourojyoti, a student of class 9 in Muragachha High School.
According to sources, his parents used to go out to their jobs everyday keeping their son alone in home. He would stay in home putting lock on door from inside. But allegedly there was a tremendous pressure on him for studies from parents. He, later on,  said to police, " My parents would keep a strong pressure on me for studies constantly and would not allowed to play."
So he went fed up and frustrated. Probably that was why he attempted to commit suicide.
Monday was not a different. The parents went out leaving him alone like other days. Neighbouring sources said that it was heppening about since last six months. However, his mother returned home at around 2:30 p.m. She observed blood stains in home and found their son was missing from his room. They started to search him out. They informed the police. Police also rushed to the spot and started to search him out.
Finally, police found the boy to lay on the ground in a paddy field with injury at Khajuri village. His wrist was bleeding. The spot of his rescue was about 1 km. away from his home. The cops took him to Dhubulia Rural Hospital. After first aid, he was referred to Shaktinagar district hospital.
Police letter on, interrogated him and did the video recording of the interrogation. The pressure from parents for studies and not allowing him to play, came out through his statement, a police officer said. The boy also confessed to police that he attempted to commit suicide.
A question comes up that how he reached about a kilometre away. A sources said, "The home of Ratan Das is in a very low land. So, he erected the home on pillars. However, when his mother reached home on Monday, Allegedly his son already had cut off his wrist with a blade. Seeing his mom to return home, he, on fear, jumped out from home through a casement. So he had to jump to a depth of around 15 feat and walked towards Khajuri.
A police officer said," Probably that was how he had received the head injury too." Police also recovered the blade used to attempt suicide.
However, he was admitted to shaktinagar Hospital. His father said," I am unable to understand how it happened. I have never pressurized my son for studies."