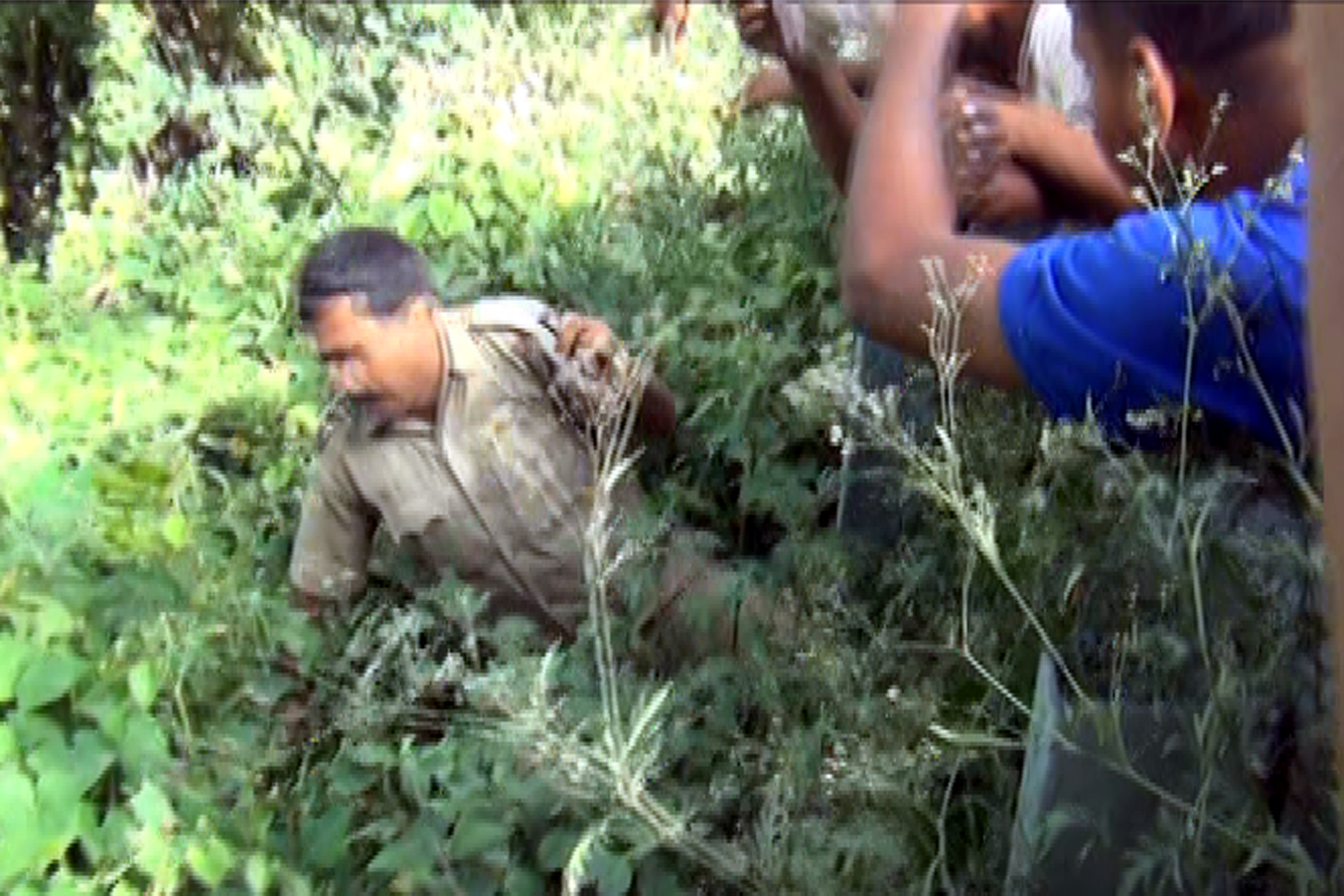 Sting Newz Correspondent, Nabadwip (Nadia):  A youth was killed in a tragic road mishap in Nadia's Nabadwip on Sunday morning. Some police personnel were seen to hide inside the bushes to save themselves from angry mob when they rushed to recover the body. The accident spot turned into a battle field between angry mob and police.
Police sources said, the deceased was indentified as Jhantu Mandal (20), a vegetable seller by profession. He was a resident of Anandabas village under Kotwali Police Station in Nadia.
On hearing the news, Nabadwip police reached to the spot. The injured youth was rescued and taken to Nabadwip Hospital where the doctors there declared him brought dead.
Meanwhile, listening the news of death of the youth, the locals become angry and  blocked Nabadwip-Krishnanagar State Road for nearly three hours in demand of some issues regarding the accident. They blamed police for the accident. They were claming that the accident took place because of extortion of the local police.
When the local Nabadwip police came to the spot to unblock the road, angry mob started to drive out the police. At that time, some police personnel hide inside a nearby bush to save themselves from the angry mob.
The mob attacked a police official and several police personnel.  A police officer was seen bleeding in the hands of the mob.  After getting the news, more police forces of the police station reached the spot and could not take control the situation.
At this time, police was very helpless before hundreds of angry people.  Later, a large police force, along with the Combat Force led by a district police officer from Krishnanagar, came to the spot and took the situation under control.
The police spoke to the mob. The claimed that police regularly takes extortion from the passing vehicle on the road. They also demand the immediate arrest of the driver and his assistance of the killer truck. Police assured them and mob withdrew their blocked.
According to local sources, this morning, at around 6.30 a.m, a sand-laden truck was going towards Krishnanagar over the Gaurang bridge road in Nabadwip.
At that time, a vegetable seller Jhantu Mondal alias Toton, a resident of Anandabas village under Kotwali police station, was going on a bicycle to buy vegetables from Nabadwip market.
On the way, in the middle of the Gouranga Bridge a sand-laden truck hit Jhantu and he was killed on spot.  The body of the young vegetable seller was sent to Shaktinagar District Hospital for autopsy.