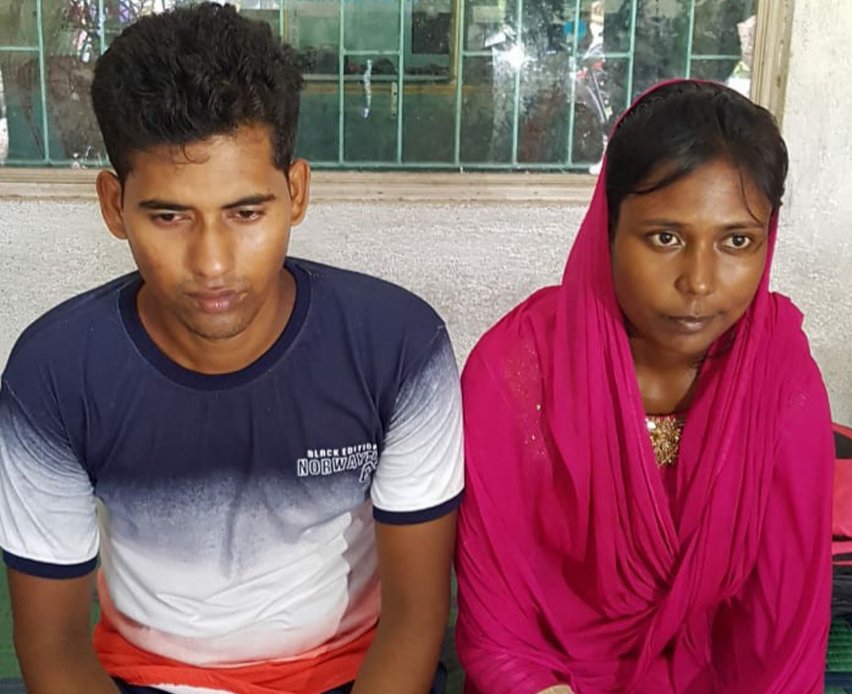 Samiran Bhattacharya & Tausif Mondal, Sting Newz Correspondent, Kaliganj (Nadia): Love conquers at last and a fiancée got married with her lover. The fiancée Mafuja Khatun sat in demonstration before the house of her lover Jinnat Ali since Monday. It happened at Radhakantapur under Kalikanj police station in Nadia on Tuesday. Finally, the marriage took through the muslim customs at the village of the girl Gobindapur. When the news published in the various media, the local administration and villagers put up its head into the matter.
With strong determination, she had been sitting in demonstration before the home of her lover. Observing the happening, the villagers broke down the lock of Jinnat's home and placed the girl inside the house as Jinnat's family left the house with lock and key on Monday.
Then the locals with the co-operation of Mira-2 Panchayat Prodhan Subir Halder searched out Jinnat from a local hideout. The Mafuja and Jinnat were taken to Mafuja's village Gobindapur.
Mira-2 Panchayat Prodhan Subir Halder said, "We sat in a meeting where Jinnat spontaneously agreed to marry Mafuja. Then the wedding took place following the muslim customs at Gobindapur village.
Mafuja said, "I am very happy now as my love got the destination. I believe we live a happy life."
Mafuja's grand mother Taslima Bewa said, "I am happy for the happing ending of Mafuja's love affair."
A senior citizen in the locality said, "The proverb- love conquers all, proved again through the wedding of Mafuja and Jinnat."
Like Dhupguri, the love affair of Kaliganj got a happy ending too.