Advertisement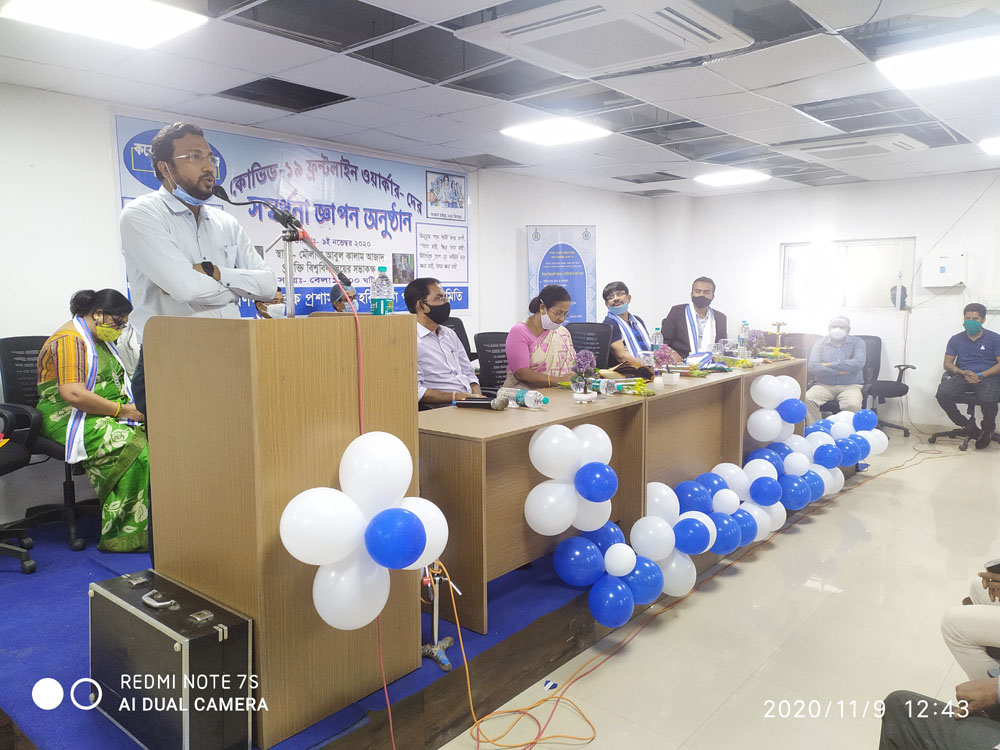 Sting Newz Service: With a view to praise the services of Corona workers those have been serving till date and will continue for uncertain period with life risk in Haringhata Block in Nadia, the Haringhata Block Development Office and Haringhata Panchayat Samity felicitated 52 workers in a joint programme. The felicitation programme took place at the auditorium of Maulana Abul Kalam Azad University of Technology ( MAKAUT) in Haringhata on Monday. The initiative was taken by Haringhata BDO Krishna Gopal Dhara who has already received the order of new posting as BDO Swarupnagar in North 24 Parganas.
Inaugurating the programme with lighting a lamp, the MLA Haringhata Nilima Nag Mallick praised all the concerned workers including ASHA workers. She occasionally said," I also was spiked with Covid including 15 of my family members and driver and my home turned into an Isolation Centre."
Among other, the SDO Kalyani, Dhiman Barui, Assistant Registrar, MAKAUT, Anup Kumar Mukherjee, Nadia Zilla Parishad, Purta ( PWD) Karmadhyakshya, Chanchal Debnath, Joint BDO, Jay Prakash Mandal, I.C. Haringhata PS, Ashoktaru Mukherjee, who too was infected with corona, delivered their encouraging speeches. Chanchal Debnath especially mentioned the remarkable services of front line workers like ASHA, VRP workers and drivers.
Advertisement
Reminding that the fight was not over Anup Kumar Mukherjee called for united efforts to fight the pandemic and saluted the said covid warriors. He occasionally described the activities of MAKAUT following lockdown. He said," Our University has distributed cooked and dry food, self made sanitizer and masks to the neighbouring villages for a long period at a stretch."
The fire brigade workers , Block Health workers and a few Journalists too were felicitated in the programme.
BDO Krishna Gopal Dhara during his speech specially thanked the Vice Chancellor of MAKAUT, Saikat Maitra for providing the auditorium for the programme.