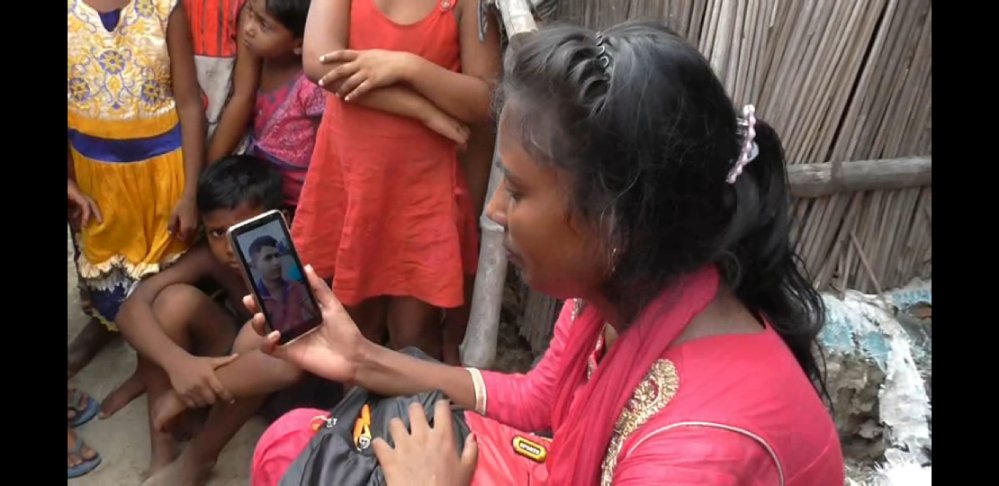 Samiran Bhattacharya & Tausif Mondal, Kaliganj (Nadia) : After Dhubguri, a fiancee sits in a demonstration before the house of her lover demanding to marry her. It happened at Kalikanj in Nadia on Monday morning. Mafuja Khatun, a third year girl student of Plassey college, who has a tie of love since last three years sat in demonstration before the home of her lover Jinnat Ali at Radhakantapur village of Kaliganj in Nadia on Monday morning.
At the beginning, the locals couldn't realize, but later on they came to know the reason of demonstration. According to locals, a love affair had grown up in them in college as the duo are classmate. The affairs is already three years old. But when Mafuja told Jinnat to marry her, he refuted. So, she sat in demonstration before his home on Monday.
Mafuja said, "Jinnat had assured me to marry. Even he told once that if my guardian arranged for my marriage elsewhere, he would killed me. But since last few months I am harping upon the same string to marry me but he has been avoiding. Even he changed his phone number but we had the physical relationship. Recently when my guardian went to their home to propose our marriage, they insulted my guardians. During our affair Jinnat had taken rupees 1.5 lakh from me for his job."
However, when she sat in a demonstration, the members of Jinnat's family ran away from home leaving it under lock and key. Mafuja's guardian stated that when they met police, the cop advised them to solve the issue through discussion. But when they proposed for the marriage, Jinnat's family told they dissolve to solve it by providing money but was not ready to marry Mafuja.
On the other hand, Mafuja is determined to marry Jinnat as her chastity (Virginity) has gone due to their Physical relationship. It creates trouble mainly in rural areas in arranging marriage with other boy.
Her grand mother Taslima Bewa said, "The age of their relationship is about three years. As Jinnat refuted to marry this morning I came to know that she sat in demonstration before Jinnat's home. We demand to the administration for her justice."
Keshab Chandra Khan, Joint BDO, Kaliganj who had rushed to the spot later said, "We are looking into the matter for an amicable solution."