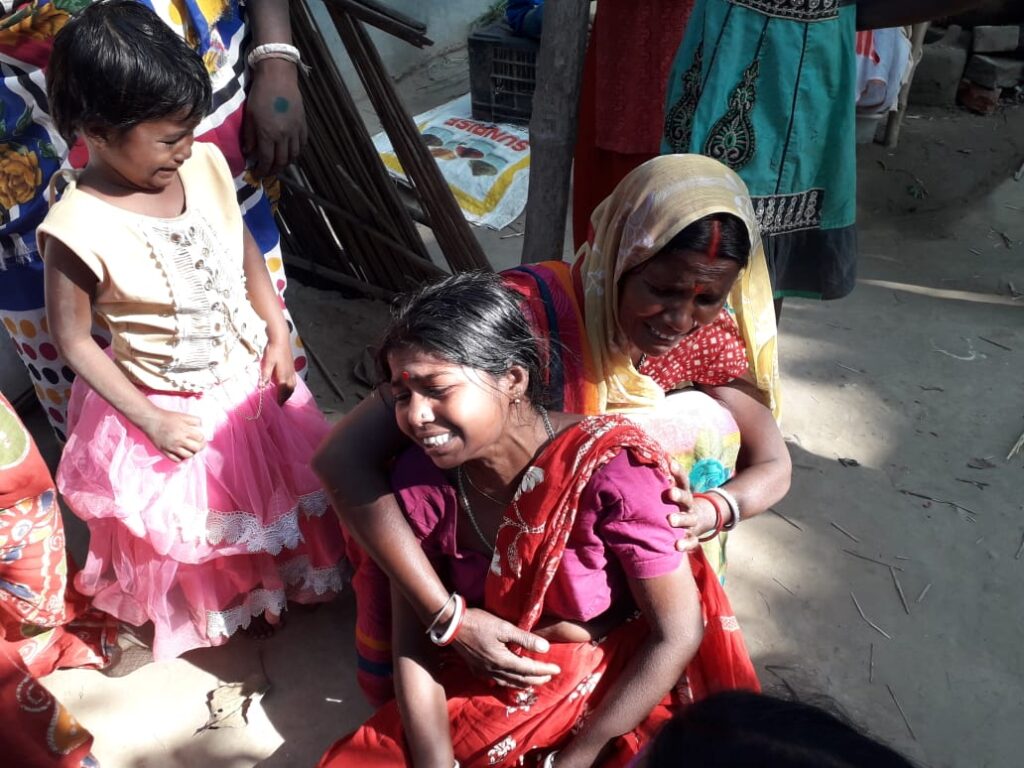 Shantipur (Nadia) : 8 persons were killed and other about 44  fell ill and admitted in hospitals after consuming hooch. It happened at Nrishinghapur village under Shantipur police station area in Nadia since early on Wednesday, a police sources said.
DM Nadia, Sumit Gupta who rushed to Shantipur Hospital, confirmed the death of 6-7 persons.
Gupta said, " 6-7 persons were killed and a medical team was sent to the village. The local SDO, BDO, CMOH rushed there. I am at Shantipur Hospital. District CMOH with me."
According to local sources, Some local anti socials run a few illegal hooch counters since long. Allegedly, they used to bring the drinks from Kalna in Burdwan. Kalna is situated at the other side of river Ganga, just opposite to Nrishingapur village.
it is also alleged that the local brickfield labours and other a few locals had bought and drunk the same from Nrishingapur Chowdhury Para. Then they begun to fall ill during late night. The near and dear to the ill persons took them to Shantipur and Kalna hospitals. Later, while 4 died in Kalna Hospital, 3 expired in Santipur Hospital. Other 44 persons are admitted in this two hospitals including 30 at Kalna Hospital. A few of them were reported to be critical.
Hospital sources suspects that the number of death may increase.
"We suspect, the death occurred due to methanol poisoning," said Dr Jayanta Biswas, Superintendent, Shantipur State General Hospital
Nadia Police Super Rupesh Kumar and Additional Superintendent of Police Tauseef Ali Azhar did not respond to phone calls and text messages. So no statements are available from them.
Nadia Zilla Sabhadhipati Rikta Kundu said, "About 40 persons consumed hooch on Tuesday night. They comsumed hooch regularly."
As soon as Shantipur police came to know about the happeanings, rushed to the spot on Wednesday morning.
The villages alleged that the protests against sale of the same find no result.
However, a police sources said that the police raided the area and recovered a few litres of the hooch on Wednesday.
A local vendor Hemanta Mahato who had drunken last night said, " The plastic hooch packets are sold at the rate of rupees 20 each. I took it last night but I am fit "
He added that there are 4 to 5  counters at Chowdhury para area.
A housewife in the village Ramabati Mahato said, " There is a couple in the village, who sale the drinks from their home. Police often raids on the counters and takes the hooch sellers to Police station and they return soon allegedly after the under table adjustment. The trade have been going on since last 3 to 4 years.
Another villager alleged that one Gulbar Mahato sell the drink and Civic volunteers often come to collect the 'Tola' from him.
However, the village was shrouded over with melancholy. The relatives of the victims were lamenting and crying loudly. The neighbouring females were trying to console them.
On the other, a few persons who had consumed the hooch but had been fit, later rushed to hospital due to fear of death of a few of their neighbours.
Ramakrishna Mahato and Kartik Mahato are two such instances. Ramakrishna Mahato said, " I had consumed the hooch but felt no trouble. When I found people to die from same, got into panic and admitted to hospital." Kartick also expressed the same.
The village basically is poor one and most villagers from Mahato clan.
A sources said that the culprits were absconding.
Police did not confirm  the names of victims till now. But the village sources confirmed the names. The deceased were identified as Bhaloya Mahato (40), Dularchand Mahato (41), Sunil Mahato (35), Buto Mahato (35), Kashinath Mahato (55), Munna Roy (35), Goutam Sharma (24), Basudev Mahato (43).