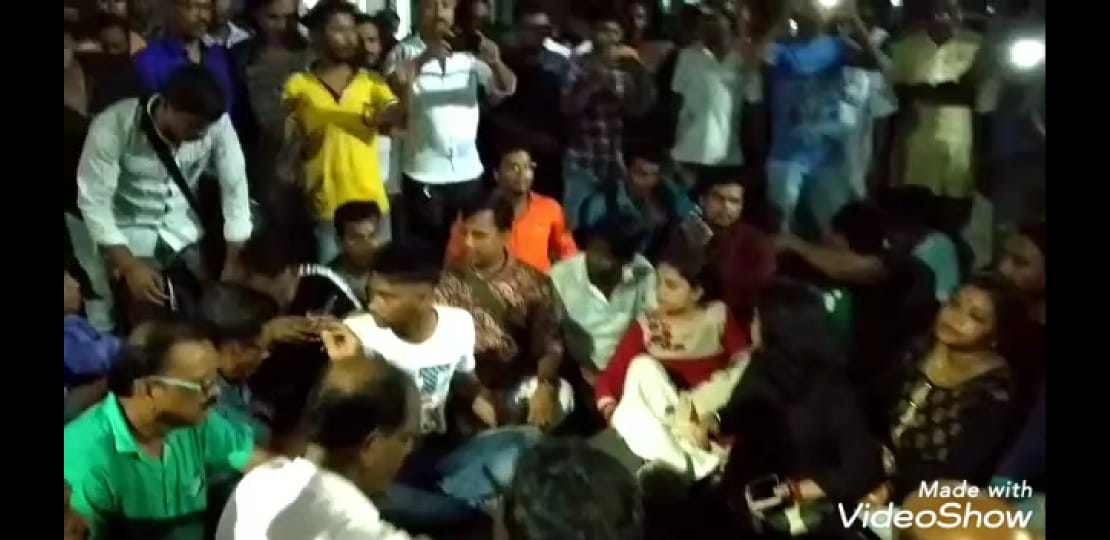 Sting Newz Service, Kalyani (Nadia): 2 innocent students who had been in College campus were injured when allegedly a group of TMCP miscreants hurled bombs at Kalyani College in Nadia on Friday afternoon allegedly to keep the political power in hand. The injured duo were taken to Kalyani JNM Hospital. While one got injuries on heap, the other at leg. Later one was referred to Kolkata PG Hospital.
But TMCP leadership refuted the allegation and blamed ABVP for the incident.
Initiating the incident at Kalyani college in the afternoon, it continued upto friday night as the BJP and its branche organizations demonstrated before Kalyani PS at around 7 p.m. on friday to protest the college happening and they broke the police barricade. When the cops chased them, they walked back and sat on road before police station. As a result main road of town Kalyani got blocked. at around 7. 30 p.m on friday.
According to BJP Nadia South President Manabendra Roy, a group of TMCP men on bikes entered the College with sticks, bombs and fire arms on Friday afternoon. There were huge students in college campus at that time. In addition to old students, the students those intended to be admitted, too were in College as Friday was the date of scrutiny of admission forms of first year.
The TMCP youth allegedly  spread terrorism in campus first and then begun to hurl bombs in front of college. Sources said four bombs were bursted out.
However, the new students in queue were feared and begun to run topsy – turvy. At that time two students were injured from bombs.
They soon were rushed to Kalyani JNM Hospital. While one's heap were seriously injured, the other received injuries on leg. The student mentioned first was identified as Tarak Hawladar, a first year student. He was referred to PG in Kolkata. The rest Rahul Mondal, also a first year student, is under treatment in Kalyani JMM Hospital.
BJP alleged that police was present in College campus since before the tumult. " In fact, police indulged TMCP and remained silent spectator during TMCP's terrorism," Manabendra Roy of BJP said.
He more said," Since long years TMCP would collect lakhs of money from students to arrange for illegal admission. ABVP has been protesting it now. So the TMCP lashed terrorism in college to take control over it."
The ABVP workers were present in college since Friday morning.
However, when the injured students were taken to hospital, the BJP and its branch units too were gathered there. It also raised a tension and huge police force was deployed in hospital alike college.
Sourik Mukherjee, the Nadia TMCP President said," TMCP was not involved in the incident in Kalyani college. TMCP never goes to college with bombs. It was done by ABVP. Since long ABVP has been doing unrest in various college in West Bengal. The incident in Kalyani college is just an instance."
However, alleging the indulgence by police to TMCP, the BJP leadership had decided to demonstrate before Kalyani PS. So they gathered before PS at around 7 pm. on Fridays. Subsequently, they blocked the road before police station.
SP, Ranaghat Police district, VSR Ananthanag said, "Two persons were injured in Kalyani College incident. We will investigate the matter. And if we get any complaint, will start specific case."
Regarding BJP's road blockade he said," Police force is there and everything is under control."
The students from ABVP across the state protested the attack on their supporters on Saturda.